Denture Options – Waco, TX
Finding the Right Dentures
The Dental Gallery is proud to offer a variety of dentures to help patients replace most or all of their teeth. You may not realize it, but there are many kinds of dentures that are made with different materials. As such, we will take the time to go over your options carefully and explain the advantages of each type of denture before you make a decision. After all, a well-made denture can make your everyday life much more enjoyable! Call today to schedule a denture consultation.
Why Choose The Dental Gallery for Dentures?
Removable Implant Dentures Available
100% Custom-Made Prosthetics For Patients
Dentist with 2 Decades of Experience
Diamond Dentures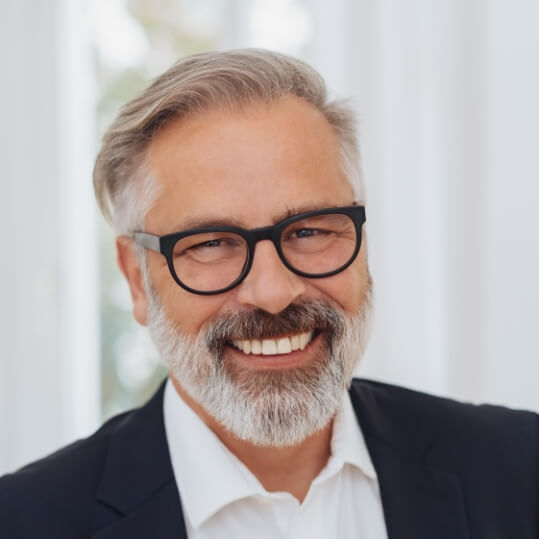 Some dentures simply act as a replacement for your missing teeth, but our Diamond Dentures can make you feel as though you've got your original teeth back. They're the best option we have to offer when it comes to comfort, aesthetics, and chewing strength. This is because they are made with a special heat-injection method that makes them highly durable and allows them to fit securely into place in your mouth. Looking to turn back the clock for your smile? Ask us about Diamond Dentures today.
Learn More About Diamond Dentures
Sapphire Dentures
With our Sapphire Dentures, we make it a point to give every patient their ideal look. The materials used to make these prosthetics are highly stain resistant, and they make your new teeth extremely strong, so you can eat all kinds of foods with confidence. They're not as lifelike as Diamond Dentures, but they are still made in accordance with a standard of quality that you won't see in your regular run-of-the-mill dentures.
Learn More About Sapphire Dentures
Pearl Dentures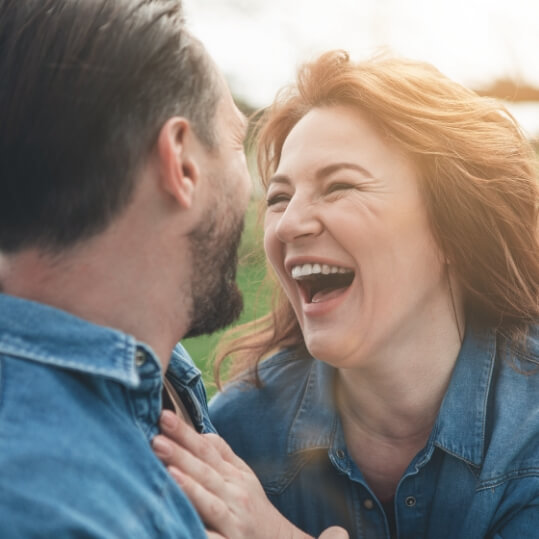 Patients who are looking for a more affordable type of denture should consider our Pearl Dentures. These are the most inexpensive prosthetics we offer, but they are still made from high-quality materials and look very natural. They can also often be provided more quickly compared to other denture options, so you will have your smile and full oral function back in much less time without having to worry too much about the cost.
Learn More About Pearl Dentures
Removable Dentures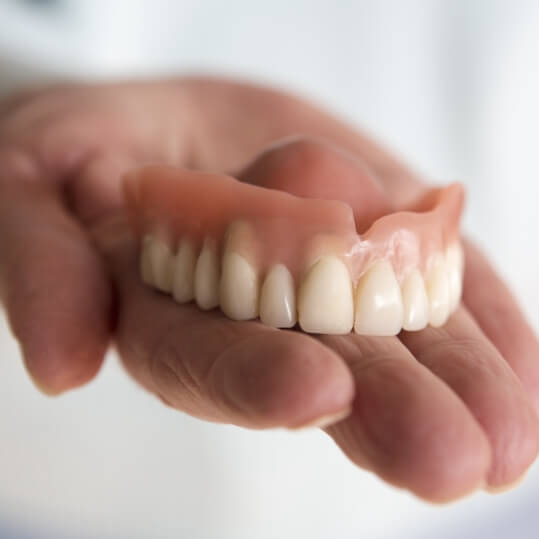 Removable dentures are a highly affordable way to replace multiple missing teeth. There are different kinds of removable dentures, but they all include a gum-colored base that supports a set of beautiful prosthetic teeth. A full denture will sit on your gums and rely on natural suction to keep it in place, while partial dentures are attached to healthy teeth with metal clasps.
Cast Metal Partial Dentures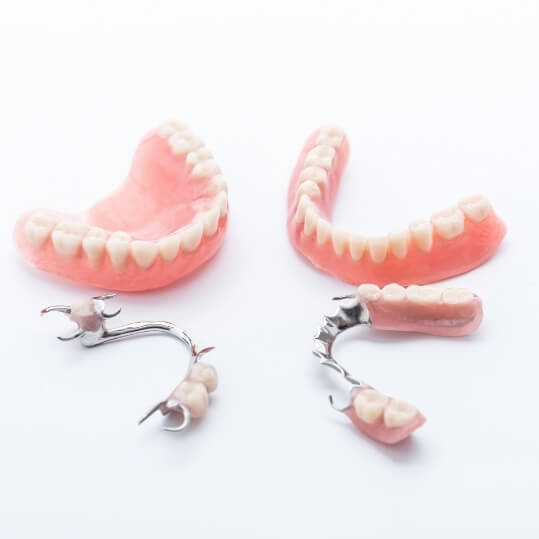 When it comes to partial dentures, the most common kind is cast metal partial dentures. To make them, a rigid metal frame is covered by gum-colored plastic before the prosthetic teeth are attached. The metal frame gives the denture extra strength and allows it to last for many years. This type of denture is attached to the teeth with metal clips. Sometimes, the clips can be made from tooth-colored materials so that they don't stand out as much when you speak or smile.
Flexible Partial Dentures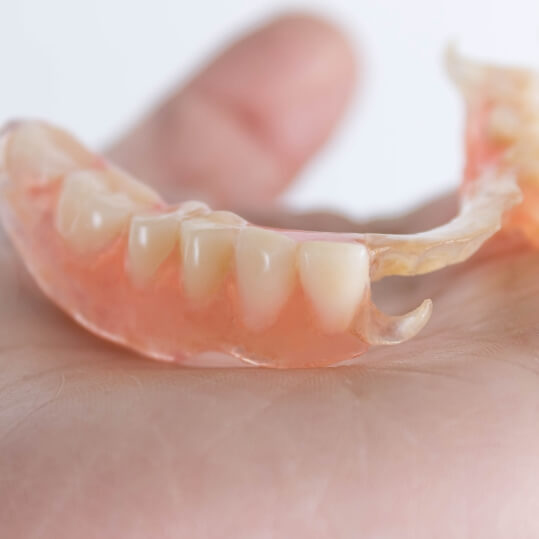 Flexible partial dentures are a lightweight option composed of a natural-looking nylon material. They're often recommended for those who find rigid cast metal partial dentures to be uncomfortable. They can also be a good choice for anyone that's allergic to the acrylic material that's traditionally used to make dentures. In addition to being more comfortable, flexible partial dentures are made to look very natural and realistic, so they can also help patients that are concerned about the aesthetics of their new teeth.
Acrylic Partial Dentures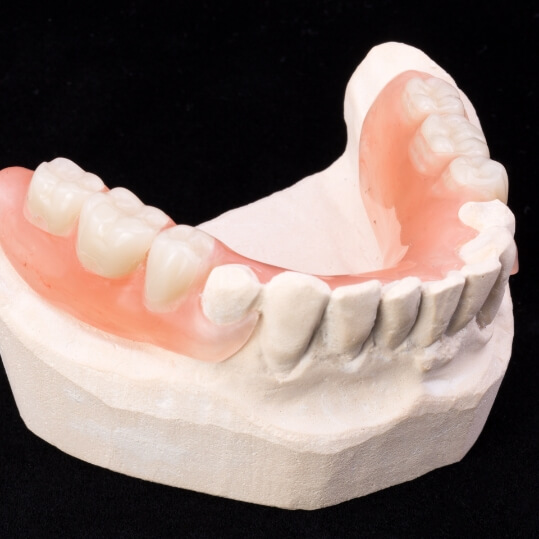 To make acrylic partial dentures, the false teeth can be attached to a gum-colored acrylic base. They grip the teeth using metal clasps, but they also get the support they need to resist the forces of chewing by sitting on your ridges. Compared to other types of partial dentures, acrylic partial dentures are less expensive, and they are relatively easy to make, allowing you to receive them sooner. However, they are still durable enough to last for many years.